Sharing information effectively.  That's the heart of SharePoint.
Every business wants to take full advantage of the resources it already has—its people, its data, and its technologies.
We can help you do it with Microsoft SharePoint.
Upvant has deep experience with SharePoint. Our specialists can give you a firsthand look at the capabilities in the latest version of SharePoint and discuss how its unique strengths can be used to support your people and grow your business.
Solve common workplace challenges.
By supporting collaboration and content management, SharePoint can quickly help organizations solve challenges around lost productivity due to disconnected people and teams, slow turnarounds, untapped or underused expertise, and even outdated IT systems that are difficult to scale.
Discover a new way to work together.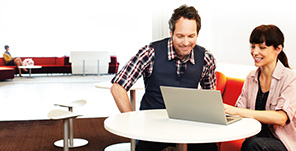 SharePoint offers across-the-board features to help your company and your people share and store ideas and information—everything from streamlining common tasks to powering business intelligence to making it easy to keep track of what colleagues are doing.
Share ideas, content, and vision through robust and intuitive social features, document libraries, activity feeds, and Microsoft SkyDrive Pro—a part of SharePoint.
Organize teams and tasks with simplified systems for tracking information, setting permissions, and sharing sites and documents inside and outside your organization.
Discover answers and insights by taking better advantage of the data and expertise you already have.
Build the portals, apps, and sites your business needs—without requiring customized development—with the new SharePoint app model and simplified intranet design.
Manage costs and meet the demands of compliance with SharePoint's efficient file input/output, reporting, and analytics features.
SharePoint is designed to minimize the impact and costs associated with upgrade. It is available in two versions: SharePoint 2013, a server-based, on-premises solution; and SharePoint Online, available as a cloud service. We can work with you to determine which solution is the best fit for your organization.
Contact us to learn more about SharePoint
Microsoft, SharePoint and SkyDrive are trademarks of the Microsoft group of companies.